Tiare Hawai'i makes ultra-cute dresses from pineapple, banana and eucalyptus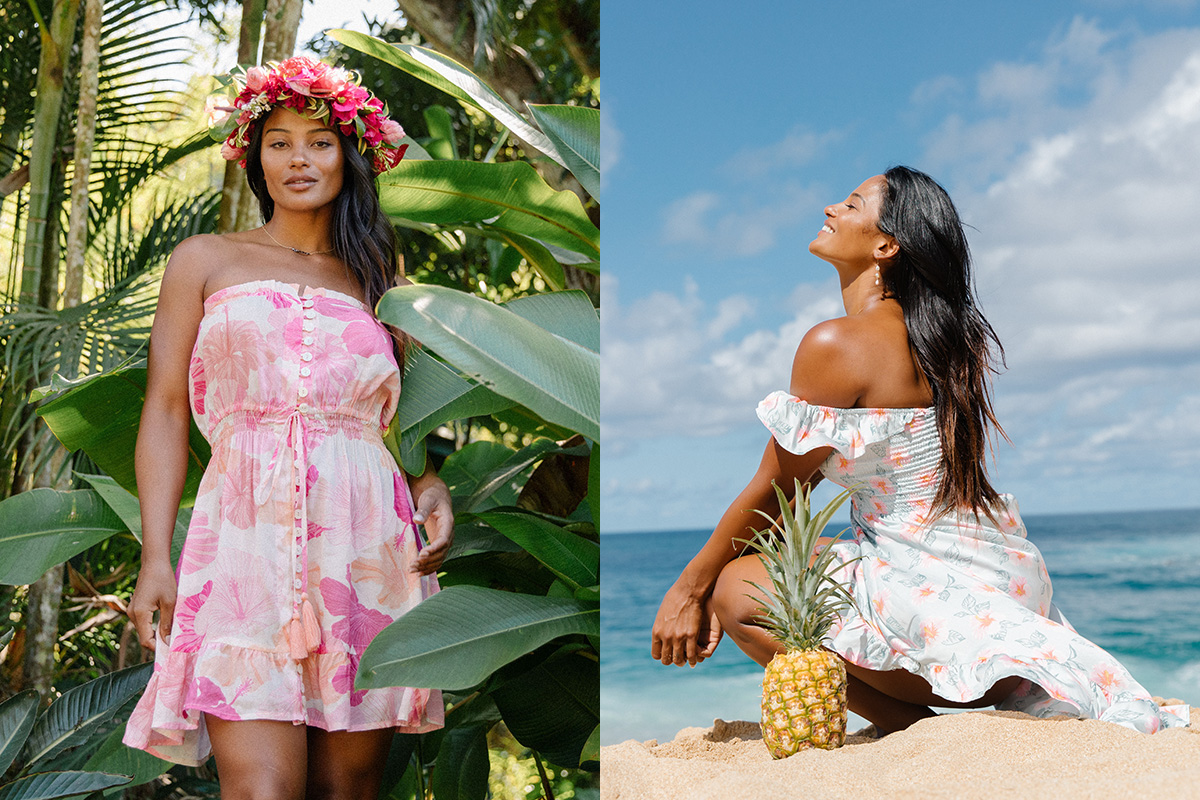 "Swhat does he make clothes with now? As a style writer, I've come across my fair share of eco-fashions, but this was the first time I'd heard of someone making clothes out of pineapples or bananas, without talk about eucalyptus or mulberry bark. And cute clothes, too!
I had to know why. And, of course, how.
"It's something I've been considering doing for a few years," Tiare Hawai'i designer Jane Hoskins says of her new Sustainable Naturals collection. "I was in contact with a manufacturer in India who made all these really unique fabrics." And then, of course, the pandemic hit.
Ask any designer and they'll tell you that bringing in a new manufacturer is a challenge at the best of times. But solving problems with the whole world closed is infinitely more difficult. Once Hoskins learned what was possible, however, she had to move on. "It was really important to do that. We wanted to make a difference."
The how of it all starts with post-production waste. "Imagine putting fruit in a juicer and then ending up with all that pulp that would normally be thrown away. It's like using that pulp to make fiber," Hoskins says. what the fibres, the strings of the pineapple are made of. When bananas are plucked from the trees, the banana leaves are normally thrown away – this is what we use to make these fibres. They are put into a machine which weaves them all together to make a textile. Surely they're mixed with other fabrics, I say. "They're not, actually. That's the really cool part. It's 100% banana!"
The Naturals collection also uses fabrics made from eucalyptus and bamboo pulp, cotton linter (a by-product of cottonseed oil production) and mulberry bark. All are vegan, chemical-free, cruelty-free, and organic. Above all, all are biodegradable and compostable – they break down quickly. "If you had to bury those dresses in the dirt or they were in a landfill, then in two months, basically, they're gone."
On the design side, each material lends itself to unique characteristics. "They all have their own feel," says Hoskins. "The eucalyptus is buttery soft and form-fitting," while the pineapple fabric is slightly thicker and has a subtle sheen. Lightweight with an organic feel, banana fabric is a Hoskins favorite. "It's a bit like linen, but softer." Bamboo is airy and the mulberry bark cloth, called mulberry silk, is aptly named. And all of them work perfectly with the label's beachy, bohemian aesthetic.
And there are plenty of other exciting plant crafts to explore. Hoskins will incorporate lotus flower and seaweed fabrics into Tiare Hawai'i's upcoming collection, as well as aloe vera fabric. "It soothes your skin," she notes. There is a silk that can be made from corn. She even sampled a rose petal fabric that looks like satin.
Going forward, the plan is to have half of each Tiare Hawai'i collection made with Naturals fabrics, with hopes of eventually transitioning to an all-Naturals line. "We are also about to introduce the Naturals into our children's line."
The results are so fantastic, I'm curious why more brands aren't using these textiles. "It's not really known," Hoskins offers. "There are some brands in Europe that these manufacturers have worked with, but in the US I haven't found anyone who actually does and I don't know why. There are smaller countries that have been using this type of fiber to make textiles for a long time – it's an old process, and it's kind of gotten lost or replaced by what's more economical.
This is more work and a little more expensive, she acknowledges. And there are fewer manufacturers who specialize in these fabrics. "I don't think people in the US even know it's a possibility, the word hasn't really gotten out. We're just a small brand, but it's really something we wanted to do. know", to let people know "it's possible and it's so cool".